Yakitori & Gyozas
Chicken Tsukune Yakitori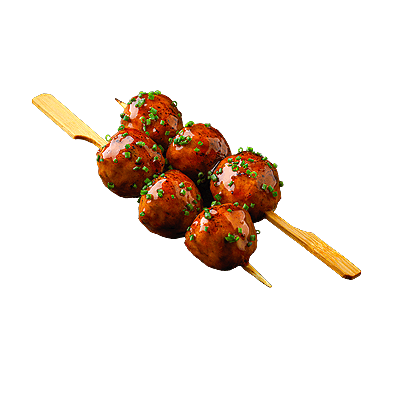 Topped with teriyaki sauce and chives, discover our sweet and sour and melt-in-the-mouth chicken tsukune yakitori.

As these products are delicate and do not retain heat well, we offer you the choice of heating them yourself.
This is why we have 2 options for you:
- "served hot" sold in store and as takeaway.
- "to prepare yourself" for takeaway and delivery

If you want to fully enjoy their flavour and eat them at the right temperature here is our preparation advice:
1. Remove the lids from both the box and the pot of sauce
2. Reheat the skewers in the microwave for 1 minute at 900 watts
3. Cover with the sauce or dip the skewers, as you prefer

Today, you're the chef! Adults need around 2000 kcal a day.
Additifs :