Boxes to Share
Black Box Classic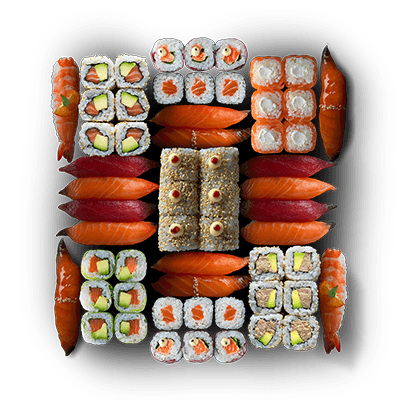 Composition :
2 Prawn Sushi
6 Salmon Sushi
6 Salmon Maki
6 Salmon Philadelphia Maki
4 salmon Teriyaki Sushi
4 Tuna Sushi
6 Chicken Katsu Rolls
6 Salmon and Avocado Spring
6 Salmon Tataki Spring
6 Salmon Avocado Rolls
6 Cooked Tuna Avocado Rolls
With the classic Black Box you're sure to share an incredible moment together, whether it's with your family, friends or colleagues. 58 pieces to share between three or four for a true moment of pleasure. Chance of getting it wrong - zero. The salmon used in our sushi is 100% Scottish.
Additifs :
Flavours
Salmon
Tuna
Prawn
Meat
Avocado
Cheese